A few weeks ago while going through my facebook feed, I stumbled upon a facebook post that was well formatted much like a well written word document. I was at first taken aback and after much thought concluded that it must be some third party mobile application that was responsible for this. So I ran to the playstore to find this amazing app.
But there was none.
Turns out facebook in their most recent update now allows you to format posts making them nicer and more appealing to the eyes particularly for long form posts.
I tried it out and it is really an amazing new feature!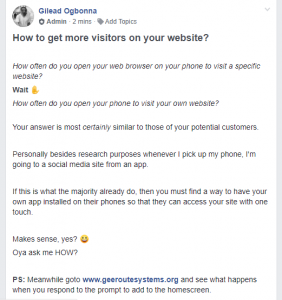 Notice the presence of Bold text and italics.
You can add H1 and H2 header texts as well as list to your long form content.
What else do you need to write the perfect content that's great for the eyes?
Okay, there's a caveat though…
The feature is only exclusive to facebook groups at this time and doesn't work on mobile devices, yet. Little wonder I couldn't figure it out on my phone or directly on my timeline.
Time will tell if this great feature will be expanded across board.
If you have used this new feature, tell us what you think about it.
If you found this post valuable, kindly share. It will mean the world to us.